While listening to Y! Sports Radio this evening, I learned that a member of the cast of CBS's Survivor: South Pacific, is also a former member of the Tampa Breeze, CB/WR Mikayla Wingle.
Wingle played in four games on both sides of the ball for the Breeze last season. She didn't exactly light up the board statistically… she logged only 1 catch for 4 yards on the offensive side. On defense, she managed 2.5 tackles, one of which went for loss.
Get some vital stats and 8 more sexy Mikayla Wingle LFL photos AFTER THE JUMP…
However, based on her looks, could you really justify not having her on any LFL fantasy team? Yeah, we didn't think so. Besides, who really gives a crap how well Mikayla played last season in the LFL with vital stats like the ones below?
Height: 5'9″
Weight: 135
Age: 22
Hometown: Stanhope, New Jersey
Before dabbling in the LFL and getting cast as a South Pacific Survivor, Wingle modeled (note: she hasn't really retired yet – you're welcome). Her modeling stage name is Miki Wingle, and it had a direct effect on her biggest LFL highlight. This past February, she was featured on the cover of Playboy's Super Bowl issue. A photo from the shoot is included below.
As for her modeling credits, Wingle has also been featured on the cover of Tampa Bay Pulse, a local nightlife and entertainment mag. Plus, on ModelMayhem.com, a social networking site for models and photogs, two of her photos were selected as Photo Of The Day in November and December 2010.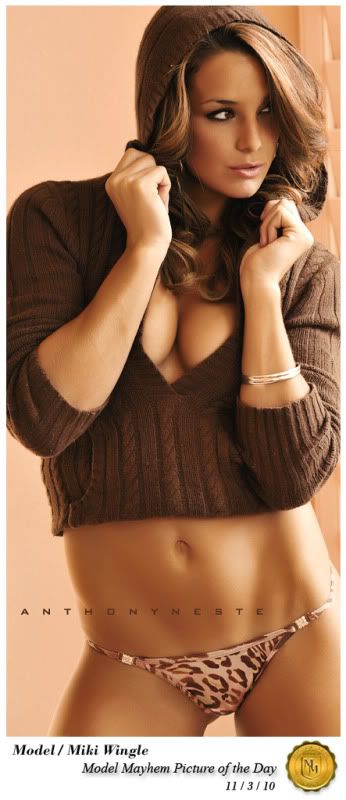 If you want to see more LFL pics of Miki, you can scroll below. For even more pics, you should definitely check out her website – ILuvMiki.com – or her Facebook page… facebook.com/iluvmiki. And if you want to check out Survivor: South Pacific to see how she fares, tune in Wednesday's at 8:00 PM EST. The season premiere is 90 minutes long.
Mikalya Wingle Of The LFL's Tampa Breeze
This entry was posted on Tuesday, September 13th, 2011 at 10:29 pm and is filed under Lingerie Football Stars, Tampa Breeze. Follow the comments through the RSS 2.0 feed. You can post a comment. Trackbacking is not allowed.